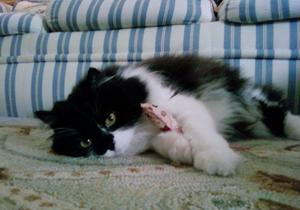 Newbury Park Veterinary Clinic was founded in 1968 by Dr. Robert Rich. When it first opened the clinic was located up on a hill that used to be where the Newbury Park Bike Shop is now located. In 1970 Dr. John Simpson joined the practice. Back then the doctors operated a mixed animal practice that included ambulatory house call services. They mainly worked on small animals, but occasionally worked on horses and other farm animals as well.
In 1974 the doctors built the location at 1240 Newbury Road, located next to Akrey's Bar and Grill. Dr. Rich and Dr. Simpson worked together at that building until 1986 when Dr. Hyman joined them as an associate. In January 1991 Dr. Hyman bought out Dr. Simpson and became a partner in practice with Dr. Rich. In 1994 Dr. Canan joined the team and became an associate. Later, in 1997, Dr. Canan bought out Dr. Rich and became Dr. Hyman's partner in practice.
In January of 2002 Dr. Canan and Dr. Hyman moved the practice to its new location at 1536-A Newbury Road; almost back to the exact original location of 1968.
Dr. Hyman retired in 2017 and Dr. Coscarelli became partners with Dr. Canan in April of 2017.